Spring on my waters is an amazing time of year! The trout are busy eating Early Black Stoneflies on the surface and below nymphing. Very large browns are chasing big articulated streamers and Chinook salmon fry patterns. And the browns and rainbows are sitting behind steelhead getting ready to eat their eggs from gravel digging to spawn.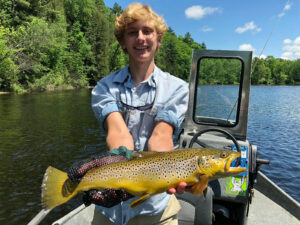 Spring is the big steelhead run. Fish can still be caught swinging flies. But it is the deep water nymphing angler that has most succe.ss fishing stoneflies, caddis Hexagenia nymphs and steelhead buggers and leeches. Matching the egg and nymph hatch, which I have written many articles about is still very effective.
But spring is the big hatch season. It starts with the tiny black stoneflies, goes to Baetis, Blue-winged olives, Quill Gordon's and then early Hydropsyche cinnamon caddis in good numbers.
Spring is by far the best time to throw big meaty articulated streamers like Double Deceivers' and Drunk N' Disorderlys' to big browns on the hunt in the high spring snow-melt and rainy season flows. The off-colored waters send a ton of baitfish spilling over the top of the flood gates of the Hydro dam, along with salmon fry and parr in the river getting the aggressive hunt mechanism triggered in the big browns.
Then its time for the amazing Gray Drake Siphlonurus hatch-the spinners blanket the waters each morning and evening for six weeks in an insane intense super hatch onslaught. It brings up big browns to 28 inches each year- with many in the low 20 inch range. Along with these are the sulpher hatch and American March Browns.
The small tiny spring creeks I guide on in the Huron-Manistee Forest down the road are starting to fish super after the late April trout opener. These beautiful little gems choked with watercress and ice cold water all year have beautiful wild browns and brook trout that are fine tuned into all the classic mayfly hatches. Their wild trout are some of the most spectacular looking spotting and colored-up trout on the planet.
By early June the amazing Isonychia hatch starts and so do the Stenonema Cahill hatch which brings up big browns and rainbows. By late June super caddis hatches start up. The big trout are now on a steady diet of baby king salmon parr and mayflies. Suckers are on the spawn and the big trout move in for the egg caviar binge feeding. By the end of June the first runs of Skamania Sumner Steelhead start to move into the Manistee- Muskegon and St Joseph River systems. Here fly-fishing for trout sees a "holy shit, cartwheeling big chrome missile launched like an ICBM as you streamer or large dry gets assaulted by the Sumner Steelhead.